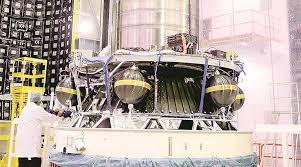 A homegrown satellite navigation system developed by the Indian Space Research Organisation (or Isro) is set to find its way into mobile phone systems sold in India. This will facilitate the implementation of a key mandate from the Nirbhaya case verdict which required the installation of vehicle tracking systems and panic buttons in all commercial vehicles.
Isro's satellite navigation system NavIC is set to become the backbone of a public vehicle tracking system in India since it offers flexibility to local law enforcement agencies to monitor vehicles unlike international systems like the GPS, satellite navigation experts from ISRO said.
In April 2019, the Union Ministry of Road Transport and Highways made NavIC-based vehicle trackers mandatory for all commercial vehicles in the country in accordance with the Nirbhaya case verdict.
The NavIC system has already been installed in over 2,000 trains in the country as part of a real-time information system for the Indian Railways on the movement of trains.
The biggest presence for the indigenous NavIC system in everyday life in India is however expected to be through mobile phones with mobile phone makers, chip makers and network service providers making provisions for NavIC in their emerging systems.
Read more of this in a report by Johnson TA published in The Indian Express... (Link given below)
News Source
The Indian Express