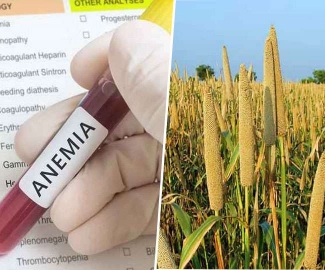 Chaudhary Charan Singh Haryana Agriculture University has developed a new variety of Millet which has extra iron content. This variety will help those who are suffering from Anemia. Read more of this in this report of Sandeep Bishnoi published in Jagran...
एनीमिया है तो चिंता मत कीजिए। बाजरा खाइए। इससे शरीर में लौह तत्व की कमी नहीं रहेगी और न बीमारी आपके पास फटकेगी। हिसार स्थित चौधरी चरण सिंह हरियाणा कृषि विश्वविद्यालय (एचएयू) के वैज्ञानिकों ने बाजरे की एक ऐसी किस्म ईजाद की है जिसमें लौहतत्व की मात्रा अब तक की किसी भी किस्म के बाजरे से अधिक है।
बाजरे की एचएचबी 311 किस्म में 83 से 87 पीपीएम तक लोहे की मात्रा है। विश्वविद्यालय के वैज्ञानिकों के अनुसार इस किस्म को राष्ट्रीय स्तर पर चिह्नित किया जा चुका है। अब इसे रिलीज करना बाकी है। संभावना है कि आने वाले एक से डेढ़ साल में इस किस्म का बीज किसानों को मिलना शुरू हो जाएगा। इस किस्म को बुधवार को एचएयू के कृषि मेले में प्रदर्शित किया गया था। वैज्ञानिकों ने कहा कि यह किस्म खाने में भी स्वादिष्ट है और इसका उत्पादन भी अन्य किस्मों के समान है।
और जानकारी के लिए जागरण मेंं छपी संदीप विश्नोई की रिपोर्ट पढ़े....