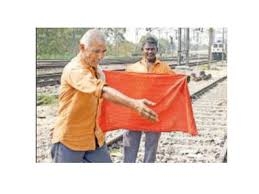 Quick thinking by two trackmen averted a major train disaster in the heart of the city on Tuesday. Priyaswami (60) and Ram Niwas (55), while examining the railway tracks between Yamuna Bridge and Tilak Bridge, spotted a six-inch gap on a section of track on which the Shiv Ganga Express was approaching at high speed. Priyaswami ran towards the train, waving his red gamchha to alert the driver. The train came to a stop a few metres before the gap.

For Ram Niwas, it wasn't the first time that he had helped avert a disaster. Three years ago, he had spotted a similar gap on another stretch and alerted his seniors and the train was stopped. This time, however, neither Priyaswami nor Ram Niwas had a phone to call the station master.
Read more of this story of 'presence of mind' in a report by Somreet Bhattacharya published in Times of India....
News Source
Times of India