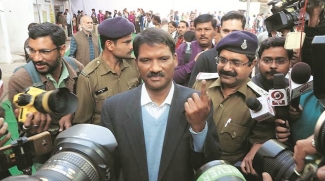 IT WAS not just the rumours and allegations over tampering of voting machines that the Chief Electoral Officer of Madhya Pradesh had to overcome in the days leading up to counting of votes in one of the most closely fought assembly elections in recent times. He was battling a personal loss, too.
Within half an hour, the 1992-batch IAS officer was on his way to Indore from Bhopal to catch a flight to Hyderabad.
After conducting the final rites, Rao managed to reach Bhopal on the night of December 9 and plunged straight into electoral work.
Read more of this in a report by Milind Ghatwai published in The Indian Express....
News Source
The Indian Express