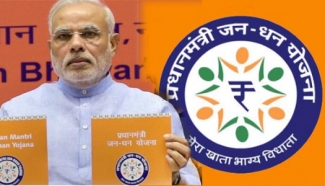 Sogada, a small village of Jashpur district in Chhattisgarh, is beautifully nestled in the lap of nature. The picturesque settlement is surrounded by green hills which make the village somewhat difficult to access. Not surprisingly, this inaccessibility has added to the difficulties being faced by the villagers in this region. Ask Roshni Bai, a resident of this village who says that the nearest bank to this village is 15 kilometer far, and for this very reason, the banking services were beyond the reach of villagers.
Even after 69 years of Independence, people like Roshni Bai could not be brought within the banking system. Roshni Bai and their future generations could have been living in the same conditions, but for a new change occurred. Some 'Bank Mitras' from a bank visited her village and explained the meaning of savings and availing banking services at their door step. It was a new dawn for the villagers. People from the bank explained the benefits of opening a bank account to them. They were also told that they didn't need to visit bank now and for banking services. Bank Correspondents will provide most of the banking services to them at their doorstep. After knowing all this, there was no reason for them but to open a bank account.
Roshni Bai now has a fair amount of savings in her bank account and this has encouraged her and her husband to save more. The couple is now planning to enhance their monthly deposits and save enough money to buy a scooter for the household. This would enhance the mobility of family members and help increase the income. For the first time, Roshni Bai and crores of such people now have bank in their lives, and it happened only due to Pradhan Mantri Jan-Dhan Yojna (PMJDY). 
Under this Scheme, a majority of people who opened their bank accounts were earlier outside the periphery of banking system. The number of people who have been included in the banking system, in such a short time, is a global record. Both public and private banks have been roped in for this scheme.
The Pradhan Mantri Jan-Dhan Yojana (PMJDY) was launched on August  28, 2014 by the Prime Minister of India Shri Narendra Modi in the national capital with a vision to bring unbanked section of the society into mainstream banking. The Scheme was initiated to provide bank account and banking services to each household in the country so as to have comprehensive financial inclusion. So far, as on 29th June, 2016, more than 22.29 crore new bank accounts have been opened under the Yojna with a total deposits of over Rs 39,251.57 crore in these accounts, and overdraft facility has been availed in about 20 lakhs accounts.
Out of all the accounts opened under the scheme, 61% are in rural areas and more than 52% are women account holders.
As on 29th June, 2016, 10.39 crore of the accounts opened under PMJDY are seeded with Aadhar numbers. In addition to this, 18.22 crore Rupay Cards have been issued under PMJDY. Out of all the accounts opened under PMJDY, the zero balance accounts are now left almost one fourth only, that is 25.29 percent, which means people have started doing transactions in their accounts.
Guinness Book of World Records has recognized the Achievements made under PMJDY especially the largest number of bank accounts opened under PMJDY in a shortest time.
The most striking feature of this Scheme is that instead of delivering banking services to villages, the focus is on households. Earlier, cities were not included in the scheme assuming that banks were already there. But 8.60 crore accounts opened in cities under PMJDY showed that it was needed in cities too. Through this Scheme, banks also got an opportunity to tap the saving potential of the common man. Apart from this, provision has also been made that accounts opened under this scheme are connected with mobile phones so that account holder can directly get information about transactions in their accounts.
Pradhan Mantri Jan-Dhan Yojana (PMJDY) has proved to be a major job creator. Empowering people by financial inclusion, and creating self-employment by increasing the availability of credit is one aspect of the scheme. This Scheme also enabled banks to create jobs for more than 1.26 lakh Banking Correspondents who are delivering banking services to households at their door step. Banking Correspondents in many ways acts as ATM too for many people. They help people to open bank account, deliver their money and also in claiming insurance. In a very short span of time, Bank Correspondents/Bank Mitras have become very popular in the rural areas.
The objective of PMJDY is to bring common people within the sphere of social security. After Independence, the concept of welfare State has been talked about much but, how to take it to the common man has not been thought-out. As a result, lot of Government policies were formulated but their execution was poor. Money that had to reach to the masses from the Centre and State capitals used to remain unutilized or got evaporated midway somewhere.
The previously existing system was the cause of corruption where there was no provision to check whether the actual benefit of the scheme has reached to the intended beneficiary or not. A former Prime Minister's statement was much talked about when he said that only 16 paisa out of a rupee reaches to the actual beneficiaries of  the Government funds released by the Centre for their welfare Schemes.
The Constitution, specifically, Article 41 of Directive Principles of State Policy, asks the State to "make effective provision for securing the right to work, to education and to public assistance in cases of unemployment, old age, sickness and disablement, and in other cases within the limits of its economic capacity and development,." As the Directive Principles are not binding on the Government, there has never been much emphasis on it in earlier regimes to ensure social security for citizens.
So, the fundamental change in the methods of carrying-out the schemes was needed. Even after six decades of independence, the Government schemes could not achieve the desired results in the area of social security.  And millions of people have been left-out of the banking system. Therefore, there was a need to involve the people themselves, so that they can create their own future. At the same time, the need to include private sector was also felt. The Government is working on the very fundamental change and this transformation is indeed speedy.
Previously, poor people had to put in tiring efforts and many formalities had to be fulfilled just to open a bank account.  Now they have got enough strength from the system and merely with an identity proof or self certification, an account can be opened and banking services can be availed.
With Jan Dhan, Aadhar and Mobile (JAM) technology, bank accounts are connected and middleman can no longer exploit the poor people. Social Welfare schemes were earlier more of a boon for middleman who used to siphon-off bulk of the funds by taking advantage of flaws/loopholes in the system. Ghost beneficiaries were also one of the facet through which middleman made profit. Now with Jan Dhan, Aadhar and Mobile (JAM) have eliminated the middleman altogether. Now the money is being transferred directly into the target beneficiary's account. Such Schemes are definitely the need of the hour and play an important role in transforming the lives of people and the country at large.
(Author of this article Ms Purnima Sharma is an independent journalist and TV anchor. The views expressed are personal.)