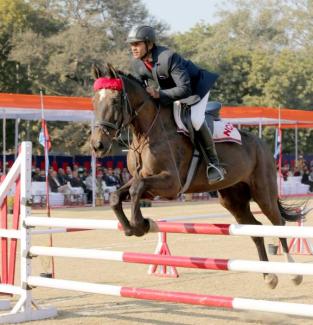 The prestigious NCC Horse Show 2023 was organised at Delhi Cantt in New Delhi  on 17 January, 2023. Under Officers Kapil Sharma and Shaksi Tanwar were declared winners of the Best Rider Trophy in boy and girl categories respectively. The Quartermaster General of Indian Army Lt General Rajinder Dewan gave away the trophies and prizes to the deserving winners. In his address, Lt Gen Dewan appreciated the excellent riding skills and horsemanship of the NCC cadets.
NCC provides opportunities to its cadets the exclusive facility of horse riding. Director General NCC Lt Gen Gurbirpal Singh said that NCC holds  325 horses to train its cadets to develop the qualities of courage, steadfastness and discipline besides sportsmanship spirit amongst the youth. The cadets have won four gold, ten silver and seven bronze medals in various regional horse shows in 2022.
The NCC Horse Show is held every year to adjudge the best rider among the boy and girl cadets of the Remount and Veterinary Units (R&V). The best rider competition at the All India level was introduced in the year 1967. The basic aim of the competition is to promote a sense of participation, equestrian skills and mastery in horsemanship.