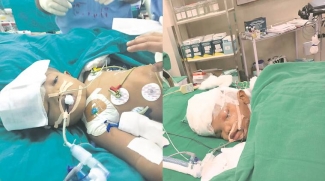 The AIIMS Thursday successfully conducted India's first craniopagus surgery to separate 28-month-old twins from Odisha, who were joined at the head. AIIMS said Jagga and Kalia, who underwent an 18-hour-long surgery, are "critical" and that they are on ventilator support. A team of 40 doctors from over 12 different super-specialities operated on the twins from Milipada village in Odisha.
Since 1973, only 60 such surgeries have taken place across the world.
Compliments to the team at AIIMS.
The next few days are very crucial for the two - we must all pray to the Almighty for their speedy recovery.
Read more of this in a report by Kaunain Sherrif M published in The Indian Express... 
News Source
The Indian Express