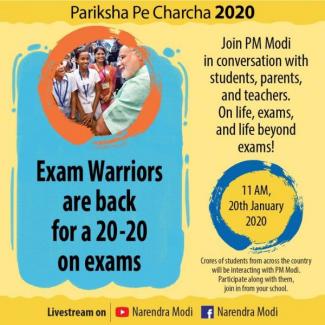 3rd edition of Prime Minister's Interaction with school students, "#ParikshaPeCharcha 2020", to be held at Talkatora Stadium in New Delhi on January 20 Over 2000 students, parents and teachers to be participate from all over India in this event. Over 2000 students, parents and teachers will be participating from all over India in this event.
The first edition of Pariksha Pe Charcha was held on 16th February, 2018 and second on 29th of January last year.
"Exams should be celebrated like Festivals" - PM Narendra Modi
Join an exciting and interesting event 'Pariksha Pe Charcha 2020' organised by NM App Venue: Talkatora Stadium, New Delhi on January 20th, 2020 11:00 AM
Students from all over the country from class VI to XII are being requested to see/hear the broadcast on Doordarshan (DD National, DD News, DD India)/on radio channels (All India Radio Medium Wave, All India Radio FM Channel).

Last year more than 8.5 Crore students from across the country viewed or heard the programme on DD/TV Channels/ Radio Channels. It was widely covered by print and electronic media.

As per media reports, the interaction programme, became a raging hit on social media, and was the No. 1 trend conversation on "Pariksha Pe Charcha" which got more than 2.5 million impressions on twitter.
Read our earlier posts on ParkshaPeCharcha:
http://bharatmahan.in/positive-news/pariksha-pe-charcha-2020-rescheduled-20th-january-2020
http://bharatmahan.in/positive-news/essay-competition-select-students-participate-pariksha-pe
News Source
With inputs from AIR also