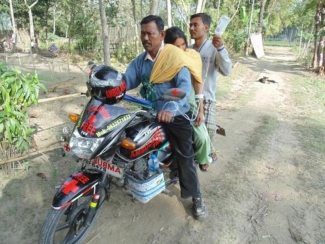 This is the story of one Karimul Haque, a tea garden worker in his early 50s, who ferries the ill, the poor and the fragile to and from the district hospital on his bike.
In rural India the road conditions are pretty bad and so is the medical facilities. If, in a remote village, there is a medical emergency it is really difficult for the patient to reach to the nearest hospital. The situation is no different in the rural tea garden area of Jalpaiguri area of West Bengal.
It is here that Karimul Haque initiated this idea of a 2-wheeler ambulance as plying of 4-wheeler on village roads is so difficult.
The idea of a bike ambulance occurred to him a few years later when a co-worker, Azizul, collapsed on the field in front of him. Karimul tied him to his back and rode 50 km down to the Jalpaiguri Sadar Hospital. Azizul got his life back and gave Karimul a new reason to live.
Recently Bajaj upgraded his bike and fitted it with a waterproof stretcher and ports for oxygen cylinder as part of their corporate social responsibility initiative.
Read more of this in a special report by Rumela Sinha in Hindustan Times.....
News Source
Hindustan Times