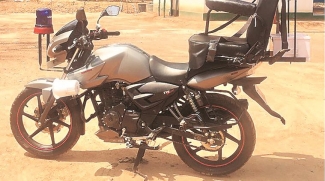 Rescuing injured security personnel is always fraught with danger in the Left Wing Extremism-hit areas of the country. And, as seen in the Sukma attack on March 13 this year in which nine CRPF personnel were killed, even mine-protected vehicles are not safe, as Maoists are reported to use over 50-kg explosives to target them.
In an attempt to solve this problem, the CRPF, with the help of the Defence Research and Development Organisation's (DRDO) Institute of Nuclear Medicine & Allied Sciences (INMAS), has developed a motorcycle-ambulance which has been tailored to its needs.
It comes with a special pillion seat that has support for the spine and neck, and even has a saline stand along with provision for carrying medicines and injections. CRPF sources said a dozen such motorcycle-ambulances would initially be deployed in camps across LWE-hit areas, with preference being given to remote and inaccessible locations.
Read more of this in a report by Deeptiman Tiwary published in The Indian Express....
News Source
The Indian Express