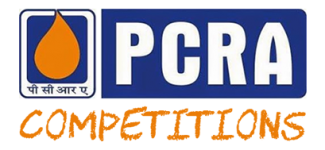 The last date for participation in Saksham National Competition 2019 has been extended by a month. It was earlier to close on 30th Sept. Now it will now remain open till 31st October 2019. This competition is organised by Petroleum Conservation Research Association (PCRA), under the aegis of Ministry of Petroleum & Natural Gas.
The Essay writing, Painting, and Quiz competitions aim to raise awareness among youth about practical conservation tips for the conservation of Petroleum products in industrial, transport, agriculture and domestic sector, and how to practice such tips in their daily lives.
For effective communication, students may choose to present their ideas and messages for conserving petroleum products and reducing emission, in English, Hindi or regional languages.
Some details of the 3 competitions :
Essay
Topic: Oil Conservation towards healthy and better environment / तेल संरक्षण से बेहतर जीवन व पर्यावरण 
Schools to conduct Essay competitions in one or more of the following languages- Hindi, English, Assamese, Bengali, Gujarati, Kannada, Kashmiri, Konkani, Malayalam, Manipuri, Marathi, Oriya, Punjabi, Sanskrit, Sindhi, Tamil, Telugu, Urdu, Maithili, Dogri, Nepali, Bodo and Santhali
Eligibility: Students of classes 7, 8, 9 & 10
Painting
Topic: Oil Conservation towards healthy and better environment / तेल संरक्षण से बेहतर जीवन व पर्यावरण 
Eligibility: Two categories
Students of classes 5, 6 & 7 (Junior)
Students of classes 8, 9 & 10 (Senior)
School to conduct competitions in any one or both the categories.
Quiz
Schools to conduct competitions in school premises in a fair manner. It is requested that all eligible (maximum number of) students take the online quiz, as it will add to their knowledge and is in National interest.
Eligibility: Students of classes 7,8, 9 & 10.
Questions shall pertain to Fuel Conservation, Environment, General Studies and General Knowledge.
The schools shall register the names of all Students against the school ID on the PCRA Competitions website.
All the students can then participate as Individuals in First Round.
Prizes include a trip to Japan, laptops, tablets, cash prizes, certificates and trophies.
For more details log on to https://www.noticebard.com/pcra-saksham-essay-painting-quiz-competitions-2019/
News Source
PCRA web site