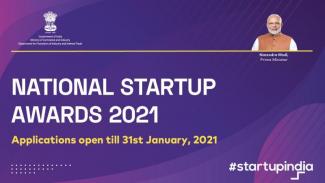 Despite the challenging times, the Indian Startup ecosystem has showcased unprecedented resilience and zest for innovation, which have been playing an important role in propelling the nation's socio-economic growth trajectory. As a successor to the first edition, National Startup Awards 2021 shall recognize and reward outstanding startups and enablers who have demonstrated exceptional capabilities not just in terms of financial gains but also for the measurable impact on society. NSA 2021 also aims to cover flagship schemes launched by the Government of India through innovations in corresponding areas, thereby solving community problems at large. Consideration is also being given to champion sectors identified by the Government of India with a focus on improving India's manufacturing capabilities towards the mission of an "Atma Nirbhar Bharat".
The recognized entities will benefit from such recognition, not only in terms of being able to attract more business, financing, partnerships, and talent, but also enable them to serve as a role model for other entities, budding entrepreneurs, and to inspire them to be purposeful and responsible about their socio-economic impact.
The categories of awards are into a total of 49 areas classified into 15 broad sectors. The 15 sectors are Agriculture, Animal Husbandry, Drinking Water, Education and Skill Development, Energy, Enterprise Systems, Environment, FinTech, Food Processing, Health and Wellness, Industry 4.0, Security, Space, Transport and Travel.  
The National Startup Awards 2021 seek to recognize and reward outstanding startups and ecosystem enablers that are contributing to economic dynamism by spurring innovation and injecting competition. Startups that are building innovative products/solutions, scalable enterprises, with high potential of employment generation or wealth creation, demonstrating measurable social impact. The measure of success will not only be the financial gains for the investors but also the contribution to the social good.
There are also six special awards for startups from educational institutions, making impact in rural areas, women entrepreneurs, potential for import substitution, innovation for combatting COVID-19 and content delivery in Indic languages.

A cash prize of INR 5 lakh shall be awarded to one winning Startup in each of the subsectors. The Winners and Runners up shall be given priority for participation in various National and International Startup events sponsored by DPIIT

Exceptional incubators and accelerators which are the key building blocks of a robust startup ecosystem will also be rewarded.

Last day to apply: 31st January, 2021.
For detailed guidelines visit : 
https://www.startupindia.gov.in/content/dam/invest-india/nsa_2021/NSA_guideliness_2021.pdf