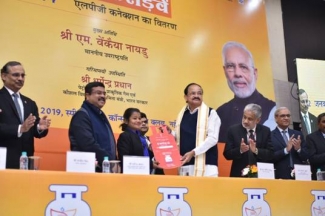 Vice President Shri M. Venkaiah Naidu handed over 6 croreth LPG connection under Pradhan Mantri UjjwalaYojana (PMUY) to Smt Jasmina Khatoon from Shivpark, Khanpur, Delhi on Wednesday. Minister of Petroleum and Natural Gas & Skill Development and Entrepreneurship Dharmendra Pradhan was present on the occasion. Many other beneficiaries were also provided with the connection under the scheme.
The Vice President acknowledging the vision of Prime Minister Modi and guidance of Dharmendra Pradhan, appreciated the collective efforts of the officials of Ministry and the Oil Marketing Companies in achieving the target of 6 crore and said this initiative is a giant step in transforming the lives of the people. It not only tackles the health and environmental problems due to household smoke, but also empowers the women and restores control to them over their destiny.
Minister Dharmendra Pradhan said that in the fifty years since the launch of LPG, only 13 crore connections were provided while in the last 54 months, almost similar number of connections have been provided by this government. He said that coverage of LPG connections is 90% now. He said that the PMUY has been hailed by the international organizations and developed countries while it has set an example for the developing countries of the world.