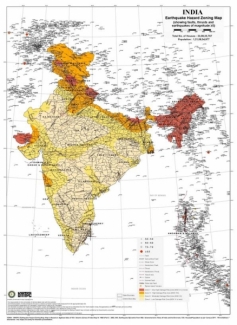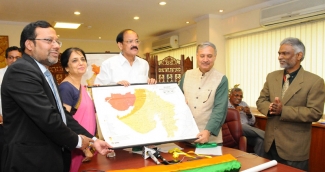 To enable earthquake resistant construction, the National Disaster Management Authority (NDMA) and Building Materials Technology Promotion Council (BMPTC) have come out with 'easy to use' Earthquake Hazard Zoning Maps at the Country, State and District level incorporating Tehsil level features. These maps were released here today by the Minister of Housing & Urban Poverty Alleviation Shri M Venkaiah Naidu.
The colour coded maps easily convey location in five different Zones of earthquake intensity which helps in planning for disaster resistant construction with necessary technical assistance. BMPTC of the Ministry of HUPA has prepared these maps at the behest of NDMA.
Appreciating the joint effort of NDMA and BMPTC, Shri Naidu urged both the agencies to ensure digitization of these maps at the earliest so that they could be used by the public. He also suggested evolving Mobile App based on these maps. He said that the maps would be of significant help to architects, engineers, land use planners, insurance agencies and those involved in disaster mitigation and emergency planning and management.
Shri Sailesh Agarwal, Executive Director of BMPTC said on the occasion that out of the 304 million households in the country, about 95% are vulnerable to earthquakes in different degree.
BMPTC prepared the maps using the data available with the Survey of India, Geological Survey of India, Meteorological Department and Census of India.
The additional features of these maps include housing and population data, railway lines, expressways and highways, rivers, water bodies, geological fault lines etc.