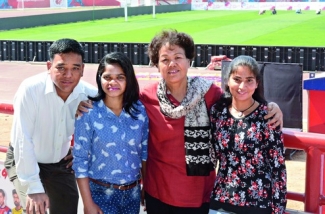 Three brave Tata Steel Adventure Foundation (TSAF) climbers are ready to scale Mount Everest-the world's tallest mountain peak.
The trio-Sandeep Tolia (42), Poonam Rana (21) and Swarnalata Dalai (20), who are back from Argentina after their Mount Aconcagua attempt will leave the steel city on February 25 for rigorous training under Tata Steel adventure programmes chief and veteran Everester Bachendri Pal at Uttar Kashi for their April-May Everest expedition.
"I want our climbers to be less dependent on sherpas. All three will train extensively at Uttar Kashi. One needs to be adequately prepared when it comes to taking on the Everest. The snow in Uttar Kashi will help in the preparations," Bachendri Pal says.
Read more of this in a report published in The Telegraph...
News Source
The Telegraph