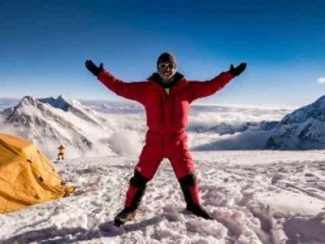 Last Sunday, 24-year-old Arjun Vajpai from Noida scaled Kanchenjunga(8,586m), the world's third highest peak. The feat made him the youngest mountaineer in the world to summit six peaks above 8,000 metres, including Everest, at 16.
Arjun's love of mountaineering started at the age of 10 when his grandfather made him climb Hanuman Tekri in the Sahyadris. Today, his goal is to scale all 14 eightthousanders – peaks over 8,000m. As a mountaineer, he experiences global warming firsthand, and has seen the weather get more unpredictable and nasty, especially at high altitudes.
Despite the challenges, Arjun considers himself lucky to have seen the pinkpurple hues of the Milky Way or to have sat above the clouds while the sun sets over the mountains he has scaled. "Few get to behold the true face of nature," he says, "and they're blessed."
Read more of this in a report published in The Times of India....
News Source
Times Of India