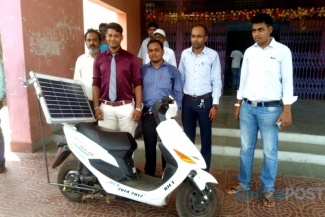 Prakash Chandra Ghadei and Rajkumar Upadhyay, 4th year students of mechanical stream in Barpada engineering college, took a stock moped and modified it, equipping it with four 12-volt batteries which are charged by three solar panels that are attached to the rear of the bike.
The bike weighs 140 kgs, after modifications, and can run 110 kms on full charge.
The project cost the students Rs 90,000.
Office of Power Minister Piyush Goyal had yesterday posted this tweet on this "Commendable work by the two students of Bhadrak Institute of Engineering, who have succeeded in running a 2-wheeler scooter on solar power."
Read more about it in the post of OrissaPost.com ....
News Source
OrissaPost.com