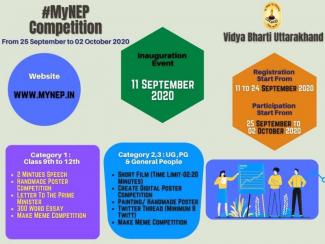 Union Education Minister Dr. Ramesh Pokhriyal Nishank inaugurated Vidya Bharati's My Education, My India, 'MyNEP' competition on Friday.
The 'MyNEP' Competition, as part of the Vidya Bharati's comprehensive and nationwide NEP-awareness campaign will be held from 25 September to 02 October in 13 languages across three categories, namely 9-12 standard, Undergraduate & above and the Citizen's or Open Category. There are prizes for every competition in each category and language. Handmade painting, meme-making, letters to the PM, speech-making, essay writing, digital designing and interactive sessions will be organized under the 'MyNEP' Competition.
At the ceremony, Dr. Ramesh Pokhriyal Nishank said, "The new policy will take us in the direction of an India-centric education system. Only an India-centric education system with Indic values at its core can help us realize the dream of Atmanirbhar Bharat. Primary education in the mother tongue, introduced by the NEP is one such dimension of an India-centric education system."
National General Secretary, Video Bharati, Shriram said, "Rote learning was the primary problem plaguing our education system. The new education policy seeks to address this issue by laying emphasis on a comprehensive education model for the well-rounded personality development of the students."
Prominent wrestler Babita Phogat who was present at the inauguration ceremony, said, "Until now, the focus of successive education policies was on quantity rather than quality. The NEP, by paying equal attention to quality will yield long-term benefits to the society. By treating sports, debates, etc. as educational activities and underscoring the centrality of comprehensive development as its objective, the NEP has introduced a desirable and promising change in the educational sphere."
M. Jagdeesh Kumar, Vice-Chancellor, JNU, said, "Education should aim at enhanced learning outcomes for a knowledge-based society. The gradual erosion of the knowledge-based character of the Indian society has been due to the imposition of an alien education system. The objective of the NEP to create a knowledge-based society will be instrumental in helping India reclaim its rightful place."
National President, Vidya Bharati Higher Educational Institute, Kailash Sharma, said, "The new education policy is an outcome of the demands of the Indian society at large. Since its inception in 1952, Vidya Bharati had been insisting on an India-centric education policy. While a number of recommendations and demands made by Vidya Bharati were included in previous education policies as well, they did not come to fruition on account of political reasons. The commitment of the ruling government towards addressing issues of national importance will undoubtedly help in realizing the dream of an India-centric education policy."
In a congratulatory video message, the Chairperson of the National Education Policy Committee, K. Kasturirangan explained the important aspects of the NEP and sent his best wishes to Vidya Bharati for the MyNEP Competition.
News Source
Vidya Bharati Press Release