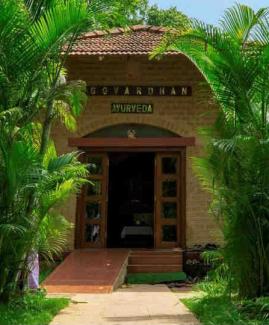 A detailed study has been undertaken by Indian Social Responsibility Network (ISRN) to document and compile Antyodaya based best practices as propounded by Pandit Deendayal Upadhyaya. This is an attempt to bring forth the efforts of all those who are working to uplift the last man in the society. This compilation was done in 2018-19. In this section of the website we are posting work and achievements of some unsung heroes, as documented by ISRN. – Editor
Here is the eighth post of the documented best practices. This post is from Maharashtra on Govardhan Ecovillage, which is an anticipator community, established in response to the socio-economic and ecological imbalances in society due to the influence of capitalism. Read the full story.... - Editor
Govardharn Ecovillage in Wada Taluka, Palghar district Maharashtra contributes towards various initiatives like tribal welfare, women empowerment, animal welfare etc. Its various ongoing programs like Yoga school, Ayurveda, women's wellness workshops etc. have been recognized by UNWTO for promoting sustainable tourism. It works on livelihood generation programs for tribal villagers which benefit BPL families including women, children, youth and the elderly. This non governmental organization established in the year 2009, illustrates the principle of 'Simple living and high thinking'.
Agriculture bears the brunt of urbanization
The recent years haven't been too kind on agriculture in India. Agriculture is the backbone of the Indian growth and development scenario, but with urbanization taking its toll, more and more human resource is moving to cities in search of better job opportunities. It also bears the brunt of the vicious cycle of over use of pesticides and chemicals, lowered water tables and changing. This leads to increasing challenges for crop cultivation. Thus, the growing need for organic farming is being felt in the country.
In response to the need of the hour
Govardhan ecovillage is an anticipator community which is established in response to the socio-economic and ecological imbalances in society due to the influence of capitalism. It aims to establish a model farm community, replete with green sustainable technology which would meet its need of water energy and waste management. It is an innovative platform to bridge the urban-rural divide. It also equips tribals of India for climate change mitigation and adaptation through various ecological, social and economic interventions.
Meeting the needs of finance, culture and religion
The project is multi fold and innovative. On the financial front it endeavors to direct the attention of city dwellers to the economic issues of tribals.
Its outreach and execution are carried out by a community of monks whose approach facilitates the integration of religious and cultural values. Setting up of a plant in the city helps farmers in sourcing various food products and milk from the farmers directly, thereby getting rid of middlemen and bringing them greater economic benefits.  The profit generated by the company is used for implementing various rural initiatives among villagers by dividing them into paadas or blocks, and identifying a leader who would meet and take decisions. Self-help groups for women helps in their empowerment.
Making the most of land and labour
The Livelihood project is the result of a baseline survey conducted in 2009 which revealed that 86% families have land but the average land size per family is only 1.5 acres. 14% families are landless and depend on non-farm activities. Paddy is the main crop, the production of which is only 8-12 quintiles per acre, only during rainy season. Most villagers migrate to cities between January and May owing to scarcity of water.
The birth of 'Wadi'- An integrated farming system
Wadi was thus born! It is a term used for integrated farming systems of horticulture, agriculture, dairy or other non-farm activities. The wadi participants are selected on two criterion i.e. the family should have a tribal lineage and should be classified by the government as below poverty line. It involves activities like conducting surveys and generating awareness among tribals to understand the view on agriculture. Farmers are encouraged to grow one or more species of fruits, food grain, vegetables etc.
This approach ensures sustenance and economic welfare. In a bid to support Agri forestry, some villagers are trained in soil and water conservation, water resource development, organic farming etc. Farmers are also supported for floriculture and provided with saplings. One of the most important aspect of organic farming involves training people in livestock development and management. The formation of self -help groups to improve skills such as organic gardening, cotton bag manufacturing, Diwali lamp making, vermi-composting, paper bag manufacturing etc. ensuring women empowerment.
Figures speak for themselves
The impact on the chosen villages has been profound. A team of 25 is working on this initiative and more than 6000 farmers from all over Maharashtra have been trained in organic farming practices. What is even more heartening is the fact that more than 1100 families from 30 villages have adopted the Wadi program. This initiative has increased the incomes of tribal farmers by 30-35%. More than 1000 acres of land is under cultivation and 1,31,000 horticulture and floriculture planting has been successfully done. The formation of 2 seed banks to preserve seeds has added to it. While more than 2,000 women are part of 200 self- help groups in 30 villages, around 850 tribals have benefited from irrigation lift initiatives. More than 5,500 got benefit from drinking water initiatives and 1,050 from customized irrigation. The program required a lot of brainwashing of the tribals who were initially reluctant to become part of the program. Some dropped out during its course. Lack of funds has also been a serious challenge, part of which has been dealt with the support of various corporates through their CSR programs.
Success lies in the program's global reach
The design of rural interventions is built in such a way that the villagers become self-sustainable over a period of time. The programs can sustain and expand through CSR initiatives of corporates and grants received. The Govardhan Ecovillage model works on the principles of trust, and has created a platform which connects people from rural and urban India. It can be easily replicated or remodeled if needed. The success of the RURBAN Eco space model lies in its global reach 
EARLIER POSTS
7. Towards Holistic Evolution Of Villages By DRI http://bharatmahan.in/unsung-heroes/towards-holistic-evolution-villages-dri
6. Transforming Villages To Make Them Ideal For Sustainable And Healthy Living http://bharatmahan.in/unsung-heroes/transforming-villages-make-them-ideal-sustainable-and
5. Planting Trees To Celebrate The Birth Of A Girl Child http://bharatmahan.in/unsung-heroes/planting-treesto-celebrate-birth-girl-child
4. EKAL - Massive Literacy Mission Without Massive Resources http://bharatmahan.in/unsung-heroes/ekal-massive-literacy-mission-without-massive-resources
3. Giving her power, funding her education: Bharatiya Stree Shakti http://bharatmahan.in/unsung-heroes/giving-her-power-funding-her-education-bharatiya-stree
2. Virtual Classes & Technology For Providing Best Education http://bharatmahan.in/unsung-heroes/virtual-classes-technology-providing-best-education
1. A Science Bridge To Nourish Young Minds – 'Swa' - Roop Wardhinee http://bharatmahan.in/unsung-heroes/science-bridge-nourish-young-minds-swa-roop-wardhinee
 @isrnnewdelhi       
   isrn.in
K-13, First Floor, South Extension II, New Delhi-110049