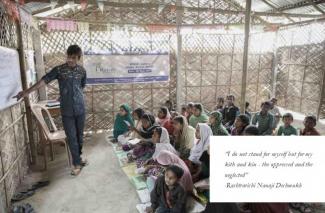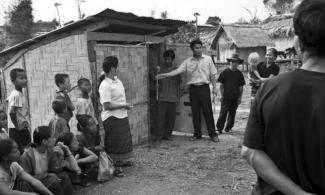 A detailed study has been undertaken by Indian Social Responsibility Network (ISRN) to document and compile Antyodaya based best practices as propounded by Pandit Deendayal Upadhyaya. This is an attempt to bring forth the efforts of all those who are working to uplift the last man in the society. This compilation was done in 2018-19. In this section of the website we are posting work and achievements of some unsung heroes, as documented by ISRN. – Editor
Here is the seventh post of the documented best practices. This post is on the exemplary work being done by Deendayal Research Institute, which was set up by Rashtrarishi Shri Nanaji Deshmukh. He was awarded Bharat Ratna in 2019 (Posthumously) and Padma Vibhushan in 1999. Read the full story.... - Editor
Deendayal Research Institute (DRI), setup in 1968 by Rashtrarishi Shri Nanaji Deshmukh, has been experimenting with techniques that may lead to holistic and sustainable development of villages. A key thrust of the organization is to make village youth employable in villages themselves, arresting migration and subsequent problems.
In 2002, DRI launched a self-reliance campaign with a unique model that rests on planting a volunteer young couple in the beneficiary villages as the nodal agents to implement several of the organizations ideas and schemes. The couple, known as the Samaj Shilpi Dampati (SSD) ingrain themselves in the milieu of the villages and work from inside to bring about harmony, and sustainable, profitable practices in the settlements.
The campaign has seen disproportionately high increase in literacy, improved irrigation coverage, increasing employment opportunities in villages themselves, and better prosperity.
India needs to prosper its villages
India lives in its villages, and the villages are dying. Shrinking land holdings, unviable agriculture, struggling education and a struggle for employing the educated plague the villages. Disgruntled youth
often head to cities that offer little anyhow. The country risks an epidemic of rural unemployment, poverty, and crime.
Institutes like DRI, inspired by the great visionaries including Pandit Deen Dayal Upadhyay, have for decades recognised the problems and have researched on alternate models to create sustainable economies in villages themselves. However, any outside intervention is often greeted with mistrust, and even open hostilities by the villagers. In such a scenario, many well meaning programs that may have far reaching benefits for villagers fail even to take off.
It is this apathy that DRI tries to fight with the self-reliance campaign.
The resident agent approach to self reliance of villages
DRI launched the Self Reliance Campaign from Chitrakoot in MP in 2002. The campaign set for itself an ambitious goal of developing 500 villages in a 50 km radius of the town. The campaign rests upon a young couple, called Samaj Shilpi Dampati (SSD), taking residence in a nodal village as the resident agents of change. The term Samaj Shilpi Dampati translates roughly to Society Sculpting Couple in English. The job of the couple is exactly to mold and transform the society from within.
SSDs are newly wed couples with a strong bent for community service. They undergo a rigorous orientation and training before being posted to their respective nodal villages. DRI runs three training campuses, one each at Chitrakoot, Majhgawan, and Ganivan. Chitrakoot can train 250 volunteers, while the other two campuses train 50 volunteers each.
Each SSD works in a cluster of five villages and has a term of five years. Typically, the couple takes residence in the local primary school, or they become guests to local hosts sympathetic to the cause of village upliftment.
The couple addresses self reliance through interventions in four broad sectors; Skill Development, Health, Education, and Agriculture. The aim is to increase village incomes by encouraging employment opportunities locally and making the youth employable, as well as introducing more viable and sustainable agriculture practices that may raise farm incomes.
The couple ingratiate themselves with the local community by actively participating in their lives through several local teams like the village development committees, Tarun Mandals, Mahila Mandals, and Bhajan Mandals. Being the part of the milieu helps the couple influence local choices that effectively promote Ayurveda, Naturopathy, Yoga, and other Indian values.
The SSDs act as the single point contact to implement all interventions by DRI units. The interventions include DRI initiatives as well as government schemes.
Results that can be counted
The campaign has demonstrated truly disproportional results. Literacy and education in the 512 target villages has increased significantly. Farm yields of wheat, paddy, soybean, gram, and vegetables have grown appreciably as well. About 50,000 villages now benefit from the Krishi Vigyan Kendra. Fertilisers produced by the Agricultural Science Centre has had a direct impact on farm profitability improving living standards of over 50,000 farmers. Of the 12,000 hectares of irrigable land, 6000 hectares is now irrigated, up from a mere 100 acres in 1991, thanks to over 1000 trenches each constructed by the organisation in more than 10 areas.
More importantly, incidents of domestic violence have come down to almost nil in the target villages. Increasing numbers of villagers are giving up alcohol, tobacco and other addictions everyday. The villages now produce their own teachers who further spread education at an exponential rate.
An example to follow
The model established by DRI not only regenerates village economies from within, it also puts educated couples to meaningful employment. The system is easy to replicate. All that is needed is more SSDs to be trained and posted. The overarching systems and learnings from established NGOs like DRI can then be efficiently implemented to create large scale prosperity that does not depend on cities or government interventions.
Since the projects have been demonstrated to be running without any external funding, flourishing only on implementation fee generated, the project showcases financially sustainable methods of bringing social change.
Being human is given but, keeping our humanity is a choice. Rashtrarishi Nanaji Deshmukh, inspired by the ideology of Pt Deendayal Upadhyay, chose to uphold our faith in humanity through DRI. The choice that he made has enlightened hundreds and thousands of lives and continue to light the path to prosperity of villages.
EARLIER POSTS
6. Transforming Villages To Make Them Ideal For Sustainable And Healthy Living http://bharatmahan.in/unsung-heroes/transforming-villages-make-them-ideal-sustainable-and
5. Planting Trees To Celebrate The Birth Of A Girl Child http://bharatmahan.in/unsung-heroes/planting-treesto-celebrate-birth-girl-child
4. EKAL - Massive Literacy Mission Without Massive Resources http://bharatmahan.in/unsung-heroes/ekal-massive-literacy-mission-without-massive-resources
3. Giving her power, funding her education: Bharatiya Stree Shakti http://bharatmahan.in/unsung-heroes/giving-her-power-funding-her-education-bharatiya-stree
2. Virtual Classes & Technology For Providing Best Education http://bharatmahan.in/unsung-heroes/virtual-classes-technology-providing-best-education
1. A Science Bridge To Nourish Young Minds – 'Swa' - Roop Wardhinee http://bharatmahan.in/unsung-heroes/science-bridge-nourish-young-minds-swa-roop-wardhinee
 @isrnnewdelhi      
   isrn.in
K-13, First Floor, South Extension II, New Delhi-110049