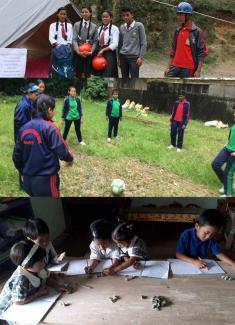 Young children learn basic life skills, such as running, climbing, problem solving and collaborating with others, on their own by playing various games. This is a natural way for children to grow up. If this approach is used in schools, then students are in their best element while learning. They find it relevant and joyful, which directly impacts their interest in learning, class attendance, and the school's overall teaching environment. Also, it has often been seen that when teachers participate in activities alongside students, education process becomes much more effective. The 'Learning through Games' innovation provides a method of teaching-learning that makes education experiential and student-centric. It also develops students' leadership skills and instils sportsmanship spirit. No wonder, it is the most popular zero investment innovation so far.
Benefits of this innovation
Students develop interest in studies and there is improvement in class attendance.
There is a marked increase in students' participation in class activities, along with enhanced values and life skills.
Revision of syllabus topics becomes easy as well as effective for both teachers and students.
Impact areas
Better learning outcomes and decreased learning gaps; Inclusion of children with special needs; Improve student enrolment and reduced drop-out ratio and absenteeism.
Activities for classroom
Football
Calendar


Chundyu Narden Gensapa, Enchey Senior Secondary School, Sadar Thana Upper Chandmari, East Sikkim
Tashi Lhamu Bhutia, Government Melli Bazar Secondary School

ZIIEI is an initiative of Sri Aurobindo Society. Working for over 55 years to transform Education, Sri Aurobindo Society has identified that the Zero Investment Innovations at grassroots in India can be one of the most game-changing accelerators in improving the quality of education.
ZIIEI has been facilitating wide-spread adoption of the most promising "zero-investment" innovations in Education, and helping the State to solve the toughest challenges of making education more effective and meaningful. Presently, it is proving to be a significant step in implementation of the vision of the State Government to establish UP as a role model state of Educational Transformation.
The ZIIEI platform brings together the scattered, isolated and yet-to-be–recognised individual innovations, and is making these collective and inclusive. Each school, educator, and student is intended to be part of a mutually-sustained ecosystem to address the gaps in education—with simple tools—and will earn recognition by the Education Community and the State Government for their successful ideas.
ZIIEI is inclusive innovation at its best also because of the fact that it brings together the government, the schools, and educators, non-governmental and corporate players. While ZIIEI, evolved in response to critical educational needs, has been designed under the guidance of the UP State Government, it is funded by HDFC Bank— a collaboration model that goes beyond even public-private partnership (PPP) to facilitate the best of ideas, research, knowledge-sharing and cross-sector collaborations.