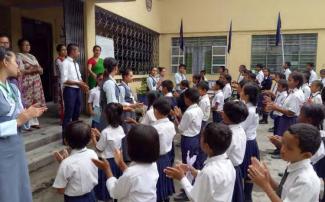 Students' attendance has remained a consistent challenge in government schools in India. Despite being enrolled in the school, many students frequently miss their classes due to which government schools continue to fare poorly in the learning outcomes. With gaps in their academic understanding of fundamental concepts, eventually such children drop out of school, or their parents prefer to send them to private institutions. To reverse this trend, the innovation 'Improving Attendance' presents child-centric ways of not only motivating the students to attend school, but also of providing them continuous support so they are not deviated from their focus on education.
Benefits of this innovation
Students feel more accountable towards their education, and their attendance and enrolment increases.
Positive, healthy competition fosters between students and their curriculum knowledge increases.
Students work together to improve each other's daily attendance, and even absentee students get to catch up with the classwork done on the day.
Impact areas
Improve student enrolment and reduce drop-out rate and absenteeism.
Summary
If regular attendance of students is a critical issue in your school, teachers can use this innovation. The ideas presented here are focused on encouraging students to attend school through reward and recognition at individual level and through their friends. The approach is to reach out to students and extend continued motivation to them inside and outside the school. For successfully carrying out the activities given below, it is important to plan ahead and keep up the effort for at least 6 months continuously. No specific TLMs are required.
Activities for classroom
My Attendance, My Responsibility
Profiling


Jigmee Bhutia, Phodong Gumpa Primary School, North Sikkim
Recheal Pegha Limboo, N.t.l. Government Seconadary School, Vok, South Sikkim

ZIIEI is an initiative of Sri Aurobindo Society. Working for over 55 years to transform Education, Sri Aurobindo Society has identified that the Zero Investment Innovations at grassroots in India can be one of the most game-changing accelerators in improving the quality of education.
ZIIEI has been facilitating wide-spread adoption of the most promising "zero-investment" innovations in Education, and helping the State to solve the toughest challenges of making education more effective and meaningful. Presently, it is proving to be a significant step in implementation of the vision of the State Government to establish UP as a role model state of Educational Transformation.
The ZIIEI platform brings together the scattered, isolated and yet-to-be–recognised individual innovations, and is making these collective and inclusive. Each school, educator, and student is intended to be part of a mutually-sustained ecosystem to address the gaps in education—with simple tools—and will earn recognition by the Education Community and the State Government for their successful ideas.
ZIIEI is inclusive innovation at its best also because of the fact that it brings together the government, the schools, and educators, non-governmental and corporate players. While ZIIEI, evolved in response to critical educational needs, has been designed under the guidance of the UP State Government, it is funded by HDFC Bank— a collaboration model that goes beyond even public-private partnership (PPP) to facilitate the best of ideas, research, knowledge-sharing and cross-sector collaborations.