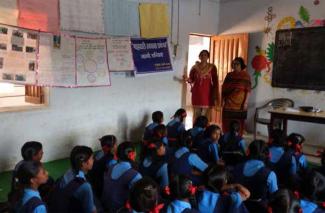 Many girls are subjected to cultural, religious and social restrictions once they reach puberty. They are not allowed to enter the kitchen, any revered place or even touch a pickle jar as girls are considered impure during this time of the month.
"How can someone lose out on studies and their future due to something that is happening to them naturally? The girls want to come to school but cannot. Sometimes they are not allowed and sometimes they are not properly counselled and guided about these sudden changes in their body. They get scared and do not come to school," she said.
Girls and their mothers now understand that their lives can go on smoothly even during their periods. They do not have to stay away from school and miss their studies due to this. Now girls rarely miss school during menstruation.
Seema Chaturvedi, Government Middle School, Syahimudi, Korba, Chhattisgarh

ZIIEI is an initiative of Sri Aurobindo Society. Working for over 55 years to transform Education, Sri Aurobindo Society has identified that the Zero Investment Innovations at grassroots in India can be one of the most game-changing accelerators in improving the quality of education.
ZIIEI has been facilitating wide-spread adoption of the most promising "zero-investment" innovations in Education, and helping the State to solve the toughest challenges of making education more effective and meaningful. Presently, it is proving to be a significant step in implementation of the vision of the State Government to establish UP as a role model state of Educational Transformation.
The ZIIEI platform brings together the scattered, isolated and yet-to-be–recognised individual innovations, and is making these collective and inclusive. Each school, educator, and student is intended to be part of a mutually-sustained ecosystem to address the gaps in education—with simple tools—and will earn recognition by the Education Community and the State Government for their successful ideas.
ZIIEI is inclusive innovation at its best also because of the fact that it brings together the government, the schools, and educators, non-governmental and corporate players. While ZIIEI, evolved in response to critical educational needs, has been designed under the guidance of the UP State Government, it is funded by HDFC Bank— a collaboration model that goes beyond even public-private partnership (PPP) to facilitate the best of ideas, research, knowledge-sharing and cross-sector collaborations.