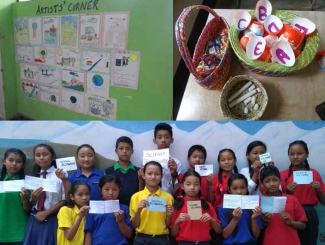 Self learning is a skill to manage one's own learning tasks without anyone deciding your course of action. It is a necessary life skill for effective lifelong learning and, if developed from an early age, children are able to enhance their learning capability as well as develop better decision-making, planning and execution skills. The purpose of the activities described here as part of 'Self Learning' innovation is to encourage students to be self-motivated, self-sufficient learners who know how to gain and apply knowledge in any area. The efforts made by the teachers in the classrooms are also doubly rewarded when students are able to learn-understand-read on their own.
Benefits of this innovation
Students understand the importance of self-learning as well as classwork and homework.
The concentration and mental skills of students improve.
Learning environment of the student at home also improves.
Students become far-sighted and they gain the perception to distinguish between right and wrong.
Impact areas
Increase in enrolment/attendance rates; Improvement in the inspiration levels of teachers.
Summary
Under this innovation, different activities are organised. The basic principle behind all these activities is that when students are given opportunities to find and assimilate information on their own, their curiosity is fuelled and their self learning skills improve. The inclination of students towards self learning also shows positive results in the classroom. Each activity gives them the knowledge to gain success in theoretical and practical situations.







Basanti Sharma, Sripatam Junior High School, South Sikkim
Raju Sharma, Sang Tshalamthang Senior Secondary School, East Sikkim
Laxmi Devi Bhattarai, Government Junior High School, Ganchung, East Sikkim
Passang Yanki Bhutia, Dokchen Primary School, East Sikkim
Sallu Rai, Government Secondary School, Sang Tshalamthang, East Sikkim
Bishmu Prasad Sharma, Government Junior High School, Dong Ambotey, Dong, South Sikkim
Kingchum P Lepcha, Aho Shanti Secondary School,Chagey Pakyong, East Sikkim

ZIIEI is an initiative of Sri Aurobindo Society. Working for over 55 years to transform Education, Sri Aurobindo Society has identified that the Zero Investment Innovations at grassroots in India can be one of the most game-changing accelerators in improving the quality of education.
ZIIEI has been facilitating wide-spread adoption of the most promising "zero-investment" innovations in Education, and helping the State to solve the toughest challenges of making education more effective and meaningful. Presently, it is proving to be a significant step in implementation of the vision of the State Government to establish UP as a role model state of Educational Transformation.
The ZIIEI platform brings together the scattered, isolated and yet-to-be–recognised individual innovations, and is making these collective and inclusive. Each school, educator, and student is intended to be part of a mutually-sustained ecosystem to address the gaps in education—with simple tools—and will earn recognition by the Education Community and the State Government for their successful ideas.
ZIIEI is inclusive innovation at its best also because of the fact that it brings together the government, the schools, and educators, non-governmental and corporate players. While ZIIEI, evolved in response to critical educational needs, has been designed under the guidance of the UP State Government, it is funded by HDFC Bank— a collaboration model that goes beyond even public-private partnership (PPP) to facilitate the best of ideas, research, knowledge-sharing and cross-sector collaborations.