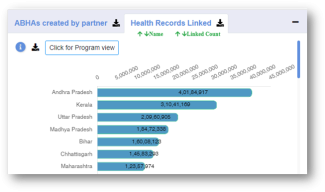 With digitally available health records, individuals can avail paper-less health services under Ayushman Bharat Digital Mission (ABDM)
The National Health Authority (NHA) under its flagship scheme Ayushman Bharat Digital Mission (ABDM) has achieved another milestone in building a digitally connected healthcare ecosystem. Over 25 crore health records of individuals have been linked to their ABHA (Ayushman Bharat Health Account).  These records can be easily accessed and managed by the individuals using any of the ABDM-enabled health apps. The digitally available health records will enable the ABHA holders in availing paper-less health services across the ABDM network.
Individuals can use their Personal Health Records (PHR) apps to access their records across different health facilities like hospitals, clinics, diagnostic labs etc. and store them in the app. They can digitally share the relevant records with verified healthcare providers over the ABDM network. This enables completely paper-less exchange of records in a secure manner while doing away with the hassles of searching for physical medical documents or worry of losing old records. The healthcare providers get consented access to detailed patient history, thereby helping them in better clinical decision making.
Speaking on the significance of this milestone, CEO, NHA said – "Digitization of physical records is crucial to the objective of building an inter-operable and accessible healthcare ecosystem. The speed at which health records are being made more accessible via ABHA linking indicates the sincerity of all stakeholders as well as the robustness and scalability of the underlying technology. The objective of ABDM can be achieved with collaborative efforts from majority stakeholders that benefit the end patients."
Elaborating further on the importance of ABHA-linked health records, CEO, NHA said – "The patients are empowered with ready access to their records and the choice of sharing selected records. This eliminates the need of the patient to travel to the physical healthcare facility for initial or follow-up consultations. With patients/ individuals at the centre, we are enabling easy exchange of information across different applications and platforms, thus bringing more efficiency and accessibility in delivery of healthcare services."
The digital linking of health records has been making tremendous progress with active involvement at State/ UT level. In the last 40 days, the number of health records linked to ABHA have jumped from 4 crores (as on 18th January 2023) to 25 crores (as on 27th February 2023). The health records linkage got a major push by integration of ABHA with the Ayushman Bharat Pradhan Mantri Jan Arogya Yojana (AB PM-JAY). With over 9.8 crore AB PM-JAY health records linked to ABHA, the scheme beneficiaries get portable and digital records which they can access and share online in a secure manner.
Additionally, other health programs under Government of Andhra Pradesh, Cowin and Reproductive and Child Health (RCH) scheme under Ministry of Health and Family Welfare, eHospital by NIC, eSushrut by CDAC and TeCHO by Government of Gujarat are among other key schemes/platform which are digitally linking health records of the respective beneficiaries. In addition to the above government programs, various private players like Orbi Health Private Limited, Hitachi MGRM Net Ltd, Driefcase Health-tech Private Limited, Karkinos Healthcare Private Limited, Paytm Mini and Bajaj Finserv Health are also contributing to ABHA linked health records.
More details on the state-wise performance and health program wise linking are available at the real-time public dashboard: https://dashboard.abdm.gov.in/abdm/