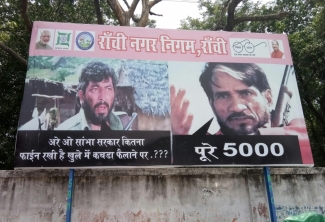 Some time back we had seen posters being put on the platforms of Howrah station in West Bengal which showed Bollywood film characters with their famous dialogues in iconic films giving the message of cleanliness. The films that were most commonly used were Sholay and Deewar. 
Very recently similar hoardings have been put in Jharkhand capital city Ranchi. The photograph given above is of a hoarding outside RIMS on Bariatu Road.
The basic idea of such hoardings is to reach the message of "Swachh Bharat" to the masses and this message must have been conveyed effectively to all. There must have been such innovative ideas elsewhere too. May be once we get information of such ideas we will post it on the web site.
"Swachh Bharat" will lead to "Swastha Bharat".