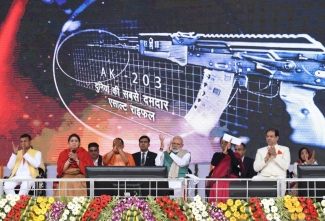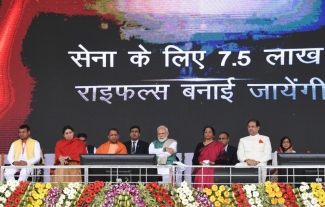 Prime Minister, Narendra Modi, visited Kauhar, Amethi in Uttar Pradesh on Sunday. He dedicated to the nation, the Joint Venture of Indo-Russian Rifles Pvt Ltd, for Kalashnikov Assault Rifle Production.
In his special message on the occasion, which was read out by Defence Minister Nirmala Sitharaman, Russian President Vladimir Putin said that "the new joint venture will manufacture world famous Kalashnikov assault rifles of the newest 200 series and eventually will reach full localization of production. Thus, the Indian defence-industrial sector will have the opportunity to fulfill the needs of national security agencies in this category of small arms, resting upon advanced Russian technologies." (Complete text given below)
Addressing the gathering, the Prime Minister thanked President Putin for this partnership. He said lakhs of rifles will be made from this facility in Amethi, and will strengthen our security forces.