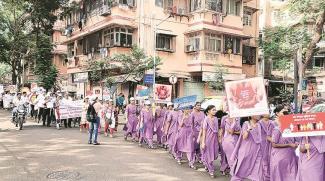 "A single organ donor can save or improve the lives of more than eight people" is their opening statement as a team from Pune's Zonal Transplant Coordination Centre (ZTCC) along with a local NGO visit a minimum of 15 colleges to inspire youngsters to pledge their organs. They do this every month.
At Nagpur's ZTCC, even a gathering of 25 or so people is sufficient — say youngsters queuing up for a driving license at the Regional Transport Office — for the team to talk about brain stem death and then expand on how the gift of donating one's organ is a precious and noble deed.
And such has been the impact of such sensitisation drives and the meticulous efforts of Regional Organ and Tissue Transplant Organisation – State Organ and Tissue Transplant Organisation (ROTTO-SOTTO) along with four ZTCCs in Mumbai, Pune, Nagpur and Aurangabad that the top performers in the field of organ donation — Tamil Nadu and Telangana — were edged out by Maharashtra for contributing the highest number of organs donated and, as a result, giving a new lease of life to 449 patients last year.
On the occasion of the 10th Indian Organ Donation Day, the National Organ and Tissue Transplant Organisation presented the best state award to Maharashtra in the field of deceased organ donation at an event held in November last year.
As of January 1, there are 6,631 patients on the waiting list. "This year we are even doubling our efforts to encourage organ donation," said Aarti Gokhale, Central Coordinator of ZTCC, Pune.
Read more of this in a report by Anuradha Mascarenhas published in The Indian Express... (Link given below)
News Source
The Indian Express