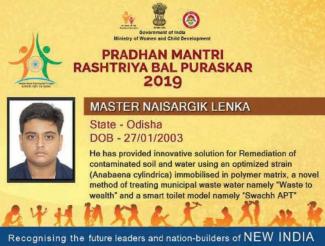 A detailed study has been undertaken by Indian Social Responsibility Network (ISRN) to document and compile Antyodaya based best practices as propounded by Pandit Deendayal Upadhyaya. This is an attempt to bring forth the efforts of all those who are working to uplift the last man in the society. This compilation was done in 2018-19. In this section of the website we are posting work and achievements of some unsung heroes, as documented by ISRN. – Editor
Here is the tenth post of the documented best practices. This post is from Odisha on the work of a teenager, who has developed 3 innovative solutions to everyday problems. Read the full story.... - Editor
Naisargik Lenka, a 16-year-old student from Bhubaneswar, Odisha, is a budding scientist and aspires to become a social entrepreneur. He has developed three innovative solutions to everyday problems—a smart toilet model; biomass (produced as a byproduct of  waste water  treatment)  which  can  be  used  as a biofuel; and remediation of soil and water that has been contaminated by chromium mining.
He was inspired to develop the smart toilet model, called Swachh APT, when the government announced the Swachh  Bharat  mission. Lenka's system not only flushes the toilet automatically after use, but also purifies and recycles the wastewater by treating the wastewater with green algae so that it can be used again as water for flushing. The initiative uses a normal mobile phone, which need not be a smart phone so that it can be used in rural areas as well. The Micro- algae culture also produces a potentially valuable biomass which can further be used for biofuel production.
However, the longest running project he has tackled (for

about one and a half years) and possibly the most important, is the remediation of soil and water contaminated by chromium mining.
Chromium mining is quite common in Odisha's Sukinda valley and chromium finds its ways into the soil and water bodies. It is the biggest source of pollution in these areas, and exposure to chromium has led to asthma, respiratory diseases, kidney damage, and cancer in lakhs of people. Lenka led the study (the other two scholars being B.S. Padhi and R.K. Mohanta), which was supported by the Centre for Environmental Studies (CES), Forest & Environment Department, Government of Odisha.
Lenka's bioremediation breakthrough was to use the fast-growing indigenous cyanobacteria Anabaena cylindricaon the toxic and highly carcinogenic hexavalent chromium. This can be used infields after the harvest and in water bodies for filtration after the field. Its impact is to detoxify the soil and water, purifying it.
Naisargik Lenka was conferred with the prestigious Pradhan Mantri Rastriya Bal Puruskar (National Child award) from President Ram Nath Kovind in 2019, since his innovations are life saving and can protect lakhs from cancer. The  benefits  of the invention can be used all across and are quite sustainable 
EARLIER POSTS
9. One Tehsil, Half A Century, A Saga Of Change  http://bharatmahan.in/unsung-heroes/one-tehsil-half-century-saga-change
8. Integrated Rural Development By Govardhan Ecovillage http://bharatmahan.in/unsung-heroes/integrated-rural-development-govardhan-ecovillage
7. Towards Holistic Evolution Of Villages By DRI http://bharatmahan.in/unsung-heroes/towards-holistic-evolution-villages-dri
6. Transforming Villages To Make Them Ideal For Sustainable And Healthy Living http://bharatmahan.in/unsung-heroes/transforming-villages-make-them-ideal-sustainable-and
5. Planting Trees To Celebrate The Birth Of A Girl Child http://bharatmahan.in/unsung-heroes/planting-treesto-celebrate-birth-girl-child
4. EKAL - Massive Literacy Mission Without Massive Resources http://bharatmahan.in/unsung-heroes/ekal-massive-literacy-mission-without-massive-resources
3. Giving her power, funding her education: Bharatiya Stree Shakti http://bharatmahan.in/unsung-heroes/giving-her-power-funding-her-education-bharatiya-stree
2. Virtual Classes & Technology For Providing Best Education http://bharatmahan.in/unsung-heroes/virtual-classes-technology-providing-best-education
1. A Science Bridge To Nourish Young Minds – 'Swa' - Roop Wardhinee http://bharatmahan.in/unsung-heroes/science-bridge-nourish-young-minds-swa-roop-wardhinee
 @isrnnewdelhi          isrn.in
K-13, First Floor, South Extension II, New Delhi-110049