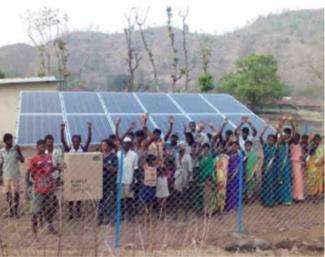 A detailed study has been undertaken by Indian Social Responsibility Network (ISRN) to document and compile Antyodaya based best practices as propounded by Pandit Deendayal Upadhyaya. This is an attempt to bring forth the efforts of all those who are working to uplift the last man in the society. This compilation was done in 2018-19. In this section of the website we are posting work and achievements of some unsung heroes, as documented by ISRN. – Editor
Here is the nineth post of the documented best practices. This post is from Maharashtra on the work of Pragati Pratishthan at Jawhar where they have concentrated their efforts in this one district for close to half a century. Read the full story.... - Editor
Pragati Pratishthan has focused its efforts on upliftment of just one Tehsil for the last 42 years. They have experimented with co-operative farming; have electrified villages with solar power, and have made dams by channeling CSR funds, government schemes, and by co-opting the villagers in funding development.
The problems are vast, focus may work Rural India is vast, and so are its problems. Many villages still struggle with basic issues like lack of safe water, availability of water itself and non-existent healthcare or schools. Persistent poverty and lack of employment opportunities make things worse. Women walk miles to fetch water. This effects their health, wellbeing and education of their children, and leave little time or energy for them to pursue anything else at all.
Jawhar in Maharashtra is a typical underdeveloped tehsil. Most villages in the tehsil do not have tar roads and are mostly cutoff in the monsoons, some villages do not have electricity. Just one rural hospital serves the entire tehsil with support from some public health centers.
Pragati Pratishthan has concentrated their efforts in this one district for close to half a century.
Granular interventions, sweeping results
Pragati Pratishthan knows the terrain well. With a lifetime of working in the area, the organisation has granular understanding of the problems that afflict each village. The organisation draws plans to solve problems of individual villages and networking with donor agencies, corporate CSR arms, and the government sets out to implement those well laid plans. Together, these individual projects have lifted the whole region solving everyone's problems.
The organisation has consistently worked on alleviating water scarcity in the villages. Working with the villagers, Pragati has carried out numerous surveys of village wells and other water bodies. They have carved individual water harvesting and distribution plans for each village, which have then been implemented with the help of villagers themselves. Training and motivation has ensured that the villagers maintain the facilities after commissioning.
Working on this strategy Pragati has helped the villagers make 316 canaria and 7 wire mesh dams that have directly benefited more than 100 hamlets. Implementation of a drinking water scheme now saves thousands of working hours for the women of over 17 villages where 786 families now get water in their taps.
Helped by Sunlit Futures, Pragati has installed solar powered water pumps in 28 villages that did not have electricity. These pumps lift water to water tanks, again commissioned by Pragati, from where it is distributed to homes through a pipeline network. The villages also are lit with this solar power system.
One of the most far reaching project of the organisation has been in group farming. The organisation has brought together farmers from several villages under a drip irrigation project. The farmers now do not look up at the sky for monsoons that gave them one crop per year. Now, they harvest multiple crops each year bringing prosperity and happiness to hundreds of families.
Pragati also runs a residential school for the children from the most disadvantaged families.
The hostel has solved the problem of children unable to go to schools during rains due to absence of roads. This has increased school enrolment and has helped livelihoods in many villages.
Pragati's school for the deaf and the mute has helped many differently abled students join the mainstream.
The system has worked for over four decades primarily due to exceptional participation from the villagers that the organisation has successfully employed to solve their problems.
Helping villagers, help themselves
Pragati Pratishthan is led by enlightened and analytical people. They have devised programs that help the villagers. However, none of the programs have been imposed on the villagers. The villagers are always consulted first. The programs and  their rationales are discussed in village gatherings; feedback are taken; tweaks made. Only once the villagers agree to the contours of a program, it is implemented.
The philosophy of co-opting the villagers have resulted in several benefits. The programs are implemented without local suspicion and protests that often mar well-meaning projects in rural India. Many programs, like the drinking water scheme, succeed in recovering a nominal fee, INR 20 a month for example, from each household.
The fee goes a long way in making the programs sustainable. Close involvement of the villagers also maintains the infrastructure and keeps the project running after Pragati withdraws.
The results have been stellar. Over 25,000 people now get water in their homes; 10,000 farmers in 750 villages follow Pragati's advice on farming techniques for income growth; Over 700 homes are now lit with solar power; 100 farmers have contributed in construction of dams. Most importantly, about 1000 students study at the Pratishthan, 300 of them being deaf and mute.
Pragati's approach of focusing on just one Tehsil has worked wonders. Due to their commitment and knowledge of the area, numerous funding agencies have come forward to help them uplift the region. Their projects are funded by CSR of ICICI Bank, Tata Capitals Housing Finance, Anchor Electricals, Gram Urja Solution Pvt. Ltd., T.J.S.B Bank, The Dobiwali Nagari Co- Operative Bank, Rotary Club, SBI Capital, Bank of America, Bank of India, and about 150 smaller organisations.
The experience has a lot to teach to the other integrated development NGOs. The most important being staying focused in one region year after year and make life easier in that one focus area. Indian villages need more such focused efforts 

EARLIER POSTS
8. Integrated Rural Development By Govardhan Ecovillage http://bharatmahan.in/unsung-heroes/integrated-rural-development-govardhan-ecovillage
7. Towards Holistic Evolution Of Villages By DRI http://bharatmahan.in/unsung-heroes/towards-holistic-evolution-villages-dri
6. Transforming Villages To Make Them Ideal For Sustainable And Healthy Living http://bharatmahan.in/unsung-heroes/transforming-villages-make-them-ideal-sustainable-and
5. Planting Trees To Celebrate The Birth Of A Girl Child http://bharatmahan.in/unsung-heroes/planting-treesto-celebrate-birth-girl-child
4. EKAL - Massive Literacy Mission Without Massive Resources http://bharatmahan.in/unsung-heroes/ekal-massive-literacy-mission-without-massive-resources
3. Giving her power, funding her education: Bharatiya Stree Shakti http://bharatmahan.in/unsung-heroes/giving-her-power-funding-her-education-bharatiya-stree
2. Virtual Classes & Technology For Providing Best Education http://bharatmahan.in/unsung-heroes/virtual-classes-technology-providing-best-education
1. A Science Bridge To Nourish Young Minds – 'Swa' - Roop Wardhinee http://bharatmahan.in/unsung-heroes/science-bridge-nourish-young-minds-swa-roop-wardhinee
 @isrnnewdelhi       
   isrn.in
K-13, First Floor, South Extension II, New Delhi-110049