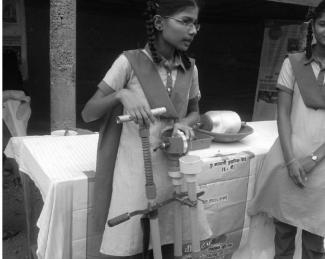 A detailed study has been undertaken by Indian Social Responsibility Network (ISRN) to document and compile Antyodaya based best practices as propounded by Pandit Deendayal Upadhyaya. This is an attempt to bring forth the efforts of all those who are working to uplift the last man in the society. This compilation was done in 2018-19. In this section of the website we will be posting work and achievements of some unsung heroes, as documented by ISRN. – Editor
Here is the first post of the documented best practices.
A Science Bridge to Nourish Young Minds – 'Swa' - Roop Wardhinee
To prepare future scientists and experts to take forward India's quest in the Science, Technology, Engineering and Medicine (STEM), 'Swa'-Roop Wardhine, a Pune based organization is working to boost potential of young minds from class 5 to 10 from underprivileged sections in 90 schools in Pune district through the Mobile Science and Technology Laboratory. The group of students taught under the project, are currently pursuing higher studies and are making great strides in academics. The initiative touches about 15,000 students per year.
Need for promotion of science of technology among school students
India is one of the fastest growing, apart from a front runner in science and technology globally. Any growing economy and a technological giant will keep pace with the rapidly changing developments in science and technology, only if is nurtures and produce scientists and experts of high caliber constantly through generations.
Despite having a basic understanding that future jobs and growth avenues will require clarity of concepts in Mathematics and Science, these subjects still puzzle Indian students, particularly those reside in remote areas. It is interesting to note that India bagged 72nd rank among 74 participating countries in 2009 in globally acclaimed Programme for International Student Assessment (PISA). The Annual Status of Education Report (ASER) 2018, states that just 28% of Class 5 students are able to do division, compared with 37% in 2008.
The 'Swa'- Roop Wardhinee approach
To address the above issues, and to strengthen basic subject knowledge among students from underprivileged sections, Pune based 'Swa'-Roop Wardhinee has been taking steady steps since 1979 to enhance study of science and emerging fields through 'Mobile Science and Technology Laboratory Project'. The model aims to develop interest of students residing in remote areas in Mathematics, Science and emerging fields. Further, it helps the cohort of students to develop proficiency in higher level of studies. Echoing the sentiment, 'catch them young'. The model has been sensitizing students of Classes 5, 6 and 7 in Pune district about (STEM) – a major component of a robust global economy. It is helping students, especially girls, to take concrete steps towards knowledge accumulation, enhancing scope of education and embark on the road to progress and growth.
How did it start?
Founder of 'Swa'-Roop Wardhinee Late Kishabhau Patwardhan in 1996 motivated a group of volunteers to collaborate with schools that lack infrastructure and resources in Mulshi Tehsil in Pune district. It aimed to motivate students to grasp knowledge in Science and Technology and use it as a platform for future growth and hone skills in emerging areas like Robotics and Machine Learning.
Motivated by the overwhelming response of students of Classes 5, 6 and 7, volunteers decided to make frequent trips and bring students closer to the world of Science and Technology. To overcome the hurdle of distance, knowledge and resources, these volunteers sought logistic support and expertise from industry stalwarts and corporate giants. The basic syllabus of Science was the stepping stone for strengthening basic knowledge among students.
Rationale and objective
To expand the scope of Science, Technology, Engineering and Medicine (STEM), the project makes students aware about these fields as well  as emerging areas such as Robotics and Machine Learning through age-appropriate literature and audio-visual. The project aims to boost potential of young minds in the age group of 10-12 years. The project aims to take students from underprivileged sections under its fold and further enhance their knowledge base in Science and Mathematics so that they become an invincible asset in the global economy.
Experts believe that a multi-pronged approach is required to sensitise people, especially children, about STEM. It is opined that starting STEM education early at the school level can manifest best results. Further, offering students  a  hands- on approach that makes them think and analyse instead of rote-learning, can yield better results in academics and research. The project assimilated this concept as its core and started its implementation in 90 schools in Pune district.
Working model of project - 'Mobile Science and Technology Laboratory'
A vehicle was designed and customized with the help of Jehangir Ratanji Dadabhoy (JRD) and Thelma J Tata Trust in 2016 to visit and teach Science and allied subjects to students of Classes 5 to 10 in various villages in schools in Mulshi Tehsil in Pune – regions where students are not well versed in Science and upcoming fields.
Initially, the project received support and guidance by JRD & Thelma Tata Trust (for three years) as well as from M/s. Bilcare Limited to cover schools in Khed Tehesil. Tata Motors Ltd. have been consistently supporting the project financially from last two years.
Implementation strategy and impact
The well-equipped vehicle covers as many as 60 schools in various Tehsils in Pune district to teach students of Classes 5-10 Science and allied subjects. The study of Science is supported by lot of audio- visual material, showcasing experiments through projectors, experiments done with the help of Robotics Kit, hands-on activities and innovative methods of teaching and instructions. The study and training sessions also cover lessons from school textbooks.
The group of students, taught under the pilot project are currently pursuing higher studies and are making great strides in academics. They aspire to become researchers, entrepreneurs and create innovations that help to create a robust, gender- equal and inclusive society free of hatred and biased notions.
The project can be sustained and replicated anywhere in the country with the help of corporate funds and technical support.
 @isrnnewdelhi      
   isrn.in
K-13, First Floor, South Extension II, New Delhi-110049