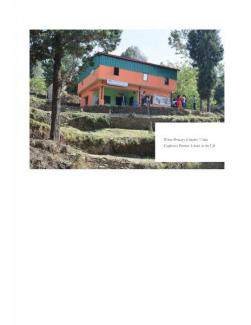 A detailed study has been undertaken by Indian Social Responsibility Network (ISRN) to document and compile Antyodaya based best practices as propounded by Pandit Deendayal Upadhyaya. This is an attempt to bring forth the efforts of all those who are working to uplift the last man in the society. This compilation was done in 2018-19. In this section of the website we are posting work and achievements of some unsung heroes, as documented by ISRN. – Editor
Here is the second post of the documented best practices. You can also read the earlier post.
Gurgaon-based Ashish Dabral is successfully taking forward the legacy of his forefathers with the revival of an old school at Timli in Uttarakhand. The school was established by his grandfather and Ashish Dabral, himself a student of the school, decided to utilize his education and experience to bring back to life what seemed like an old, lost school heritage.
Having set up a Trust in 2009 for this purpose with his own funds and with donations by well-wishers, he opened Timli Vidyapeeth in 2014. Being a techie himself (and having worked in Multi National Companies (MNCs) both in India and abroad) he decided to introduce primary students to word of Information Technology (IT). Timli Vidyapeeth, therefore, introduces young children in primary school to Robotics, Artificial Intelligence and Mindfulness Programs.
This is the first such school in all of rural Uttarakhand, and has already participated in the World Robotics Olympiad in 2017. Timli Vidyapeeth also partners with schools in the United Kingdom and the students interact through video conferencing, which is a great way for children at the Vidyapeeth to improve their English, while sharing their knowledge about India, he feels.
As the President of the Uttarakhand

Technology

Club (UTC), Ashish Dabral has also ensured that students in those Uttarkhand schools facing a shortage of mathematics and science teachers, will not

suffer.

The

UTC

has linked these

schools

up to teachers across the

country,

who are linked to the

club.

The virtual classes are in full

swing.
To follow-up on all these projects Ashish Dabral travels to and fro from Gurgaon to Timli every weekend and back—a round trip of about 700 km. He hopes that these endeavours, plus the future plans he has for the area, will one day stem the tide of outward migration and people will be able to get the best education and jobs in their beautiful mountain homeland instead.
This model has proven it is both replicable and sustainable and can be replicated anywhere in India.
 @isrnnewdelhi      
   isrn.in
K-13, First Floor, South Extension II, New Delhi-110049