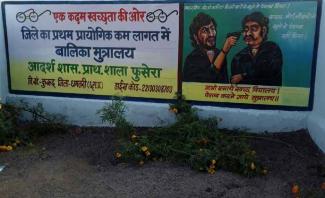 Using waste plastic bottles, trays and pipes to make separate urinals for boys and girls, Ramakant Sahu of Government Primary School in Fusera village of Dhamtari district has been able to encourage children to use the toilets and not urinate in the open, making the surroundings hygienic and odour free.
Sahu said that he has been noticing that toilets are mostly used for urination more as compared to defecation and lack of water often made them dirty and smelly which forced the students as well as teachers to go out in the open and relieve themselves.
"We also spread awareness about harmful effects of urinating in the open through cartoons. Also, students are encouraged to anonymously drop the names of their fellow students who urinate in the open in a box," he said, adding that it helps to maintain discipline among students.
Ramakant Sahu, Government Primery School, Fusera, Dhamtari, Chhattisgarh

ZIIEI is an initiative of Sri Aurobindo Society. Working for over 55 years to transform Education, Sri Aurobindo Society has identified that the Zero Investment Innovations at grassroots in India can be one of the most game-changing accelerators in improving the quality of education.
ZIIEI has been facilitating wide-spread adoption of the most promising "zero-investment" innovations in Education, and helping the State to solve the toughest challenges of making education more effective and meaningful. Presently, it is proving to be a significant step in implementation of the vision of the State Government to establish UP as a role model state of Educational Transformation.
The ZIIEI platform brings together the scattered, isolated and yet-to-be–recognised individual innovations, and is making these collective and inclusive. Each school, educator, and student is intended to be part of a mutually-sustained ecosystem to address the gaps in education—with simple tools—and will earn recognition by the Education Community and the State Government for their successful ideas.
ZIIEI is inclusive innovation at its best also because of the fact that it brings together the government, the schools, and educators, non-governmental and corporate players. While ZIIEI, evolved in response to critical educational needs, has been designed under the guidance of the UP State Government, it is funded by HDFC Bank— a collaboration model that goes beyond even public-private partnership (PPP) to facilitate the best of ideas, research, knowledge-sharing and cross-sector collaborations.