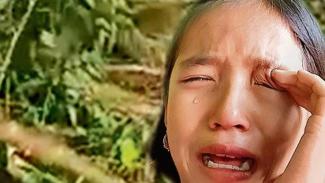 A nine-year-old Manipuri girl who shed copious tears after two trees she planted were cut down has been named brand ambassador of the Chief Minister's Green Manipur Mission.
Videos of Valentina Elangbam crying surfaced after two Gulmohar (Delonix regia) trees she planted four years ago near her home were felled during work to clean the banks of a canal.
The video came to the attention of the government too, and the Chief Minister of the state, N Biren Singh.
In the video, a tearful Valentina is seen complaining in Manipuri that the trees she had planted had grown taller than her and shouldn't have been felled.
H Balkrishna, director of the state information and public relations department , said an order appointing her ambassador of the green mission was issued on Wednesday night "on the advice and initiative of the Chief Minister of Manipur."
Read more of this story in a report by Sobhapati Samom published in Hindustan Times... (Link given below)
News Source
Hindustan Times