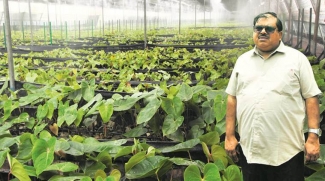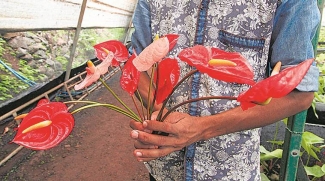 The shaded net house over a one-acre area stands out in Bhadarpada, against the lush green vegetation and densely forested background surrounding this village of Dang district's Waghai taluka. Inside the greenhouse are bright red, heart-shaped anthuriums with their white and yellow tipped spadices.
The 42-year-old, a Bachelor of Arts and Education from Surat's Veer Narmad South Gujarat University, turned to anthurium cultivation on the advice of Darshan Patel, a college mate and fellow adivasi belonging to Malwada village in Chikhali taluka of Navsari district.
Patel sells an average 5,000 anthuriums every month, mainly to merchants in Mumbai and Ahmedabad. Each cut flower fetches Rs 20 or so and they come in different shades. Last year, Patel sold some 48,000 flowers to parties in Mumbai and Ahmedabad. 
Patel, whose annual revenue from anthurium cultivation is roughly Rs 9 lakh, has currently engaged five labourers to take care of his entire floriculture operations. 
Read more of this achievement in a report by Kamaal Saiyed published in The Indian Express...  (Link given below)
News Source
The Indian Express