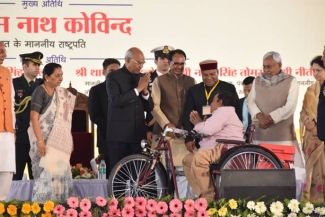 A Mega Distribution Camp for distribution of Aids & Assistive devices to the Divyangjans and Senior Citizens was organized by the Ministry of Social Justice and Empowerment, Government of India at Jiwaji University Ground in Gwalior, M P today. In the august presence of the President of India Shri Ramnath Kovind, the Aids and Assistive devices were distributed to Divyangjan and Senior citizens belonging to BPL category. Smt. Anandiben Patel, Governor of MP; Shri Shivraj Singh Chauhan, CM of MP,  Shri Kaptan Singh Solanki, Governor of  Haryana;  Shri Thaawarchand Gehlot, Union Minister for Social Justice and Empowerment; Shri Narendra Singh Tomar, Union Minister of Rural Development Panchayati Raj and Mines; and  Shri Nitish Kumar, CM of Bihar were present. Many Ministers of the Government of Madhya Pradesh and senior dignitaries were also present.
In today's mega camp, 2436 Divyanganjan under the ADIP scheme and 1835 Senior Citizens under Rashtriya Vayoshree Yoajna Scheme i.e. a total of 4271 beneficiaries were distributed 8108 equipments & Assistive Devices, amounting to Rs 288.72 lakhs, for free of cost.
Under ADIP Scheme, major Aids and Assistive Devices distributed were - Motorized Tricycles-119, Conventional Tricycles-762, Wheelchairs-277, Cruthes-1236, Walking Sticks-327, Braille Canes-34, Braille Kits-36, Braille Slates-19, Hearing Aids-742, Rolator-38, Smart Cane-127, Smart Phone-50, ADL Kit-26, Cell Phone -26, Daisy Player-30, MSID Kit-268 and Callipiers-324.
Under the Rashtriya Vayoshree Yojana, major Aids and Assistive Devices distributed were -  Walking sticks-1089, Wheel Chairs-250, Hearing Aids-773, Cruthes-14, Tripod-417, Tetrapod-197, Walker Foldable-03, Denture Complete-45, Denture Partial-40 and Spectacles-806.
Addressing on the occasion, the President Shri Ramnath Kovind lauded the efforts of the Government for Divyangjan and senior citizens of society. He said that the central and state government both are taking appropriate steps to empower the Persons with Disabilities. Various kind of contemporary assistive devices are being provided under the scheme and IT applications have been developed for Divyangjan. The President further added that assistive devices distributed in the camps are to be used as medium to lead a productive and independent life rather than depending upon these devices. He emphasized that they should depend upon self determination and morale though which any goal can be achieved.             
Gwalior district of Madhya Pradesh has taken an initiative to become the first 'Divyang Mitra' district of the country. The objective is to facilitate Divyangjan of the district with their needs of day-to-day living and generate other avenues for their socio-economic development.