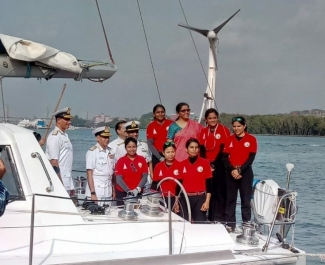 From a WhatsApp call from Prime Minister Narendra Modi on Diwali, celebrating birthdays on the high seas, to being pounded by hurricanes and monstrous waves in the Pacific Ocean, the past 254 days were quite a roller coaster for the women of INSV Tarini who received a hero's welcome on their return to Goa on Monday.
Amid fanfare befitting the historic occasion, as the Indian Navy Sailing Vessel burst into view at the Goa harbour, defence minister Nirmala Sitharaman, navy chief Admiral Sunil Lanba and top naval officers stood at the jetty to greet the six-member crew that has become the first all-woman military team and the first Asian women's team to circumnavigate the globe.
"There were some hard bits and fun times too during the last eight months," said Tarini skipper Lieutenant Commander Vartika Joshi, 28, on phone from Goa.
Read more of this in a report by Rahul Singh published in Hindustan Times....
Also read an earlier posting of 10th September 2017 when the Raksha Mantri Smt. Nirmala Sitharaman, flagged them off.- http://bharatmahan.in/positive-news/indian-all-women-crew-circumnavigate-globe-1212
News Source
Hindustan Times