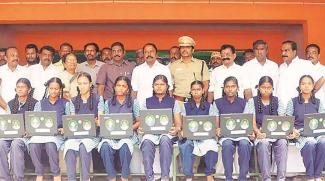 On Teacher's Day, Tamil Nadu's school education minister K A Sengottaiayan took everyone by surprise when he announced a bold new scheme that aims to turn old fashioned classrooms into digital ones. Sengottaiayan had just returned from Finland, where he studied their model of the school education system, and wanted to reform the state's school system on similar lines.
This is not the first time that Tamil Nadu has led with such an innovation aimed at improving education and health systems in the state. The laptop scheme for students, for instance, attracted a lot of experts from other states, wanting to study its feasibility.
The fact is, regardless of which political party ruled the state, Tamil Nadu has been known for unconditional allocation of funds in education and health systems.
Read more of this in a report by Arun Janardhanan published in The Indian Express... (Link given below)
News Source
The Indian Express