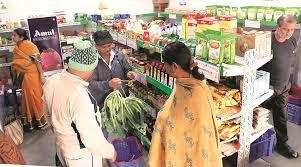 The fast-rising prices of food articles, especially those of vegetables such as onions and potatoes, have been ruining household budgets across the country. But an effective scheme run by the West Bengal government has meant that many consumers, especially those belonging to the lower-income group, in Kolkata and some nearby cities have been shielded from the spike in food inflation.
The Sufal Bangla scheme, which involves fair-price stalls and counters across the city, allows people to procure vegetables at affordable prices. At a Sufal Bangla stall onions are retailing at Rs 59 per kg and potatoes for Rs 17 per kg. There are 144 such stalls in the state, 116 of which are in Kolkata, including both permanent and mobile ones.
The project was initiated in 2014 — with 14 mobile shops — to directly procure fruits and vegetables from farmers and sell them to consumers. 
At present, the state has 47 static counters and 97 mobile counters. Kolkata has the highest concentration of these counters; the city has 24 static counters and 92 mobile counters out of the total 144 counters.
Read details of this in a report by Sweety Kumari published in The Indian Express... (Link given below)
News Source
The Indian Express