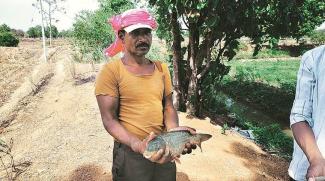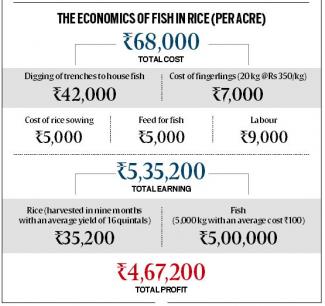 Two years ago when Dulichand Patle, a paddy grower from the Bihiriya village of Gondia, thought of taking up a second crop along with his staple paddy, the choices before him were limited. Gondia is known as the rice city, thanks to the many rice mills surrounding it, and paddy was, for most, the only choice. But then something changed.
For the past two years, the state agriculture department has been promoting this combination — fishes on paddy fields — as the means of augmenting of farm incomes. Other than the fields, farm ponds, where farmers store water to irrigate their fields during times of scarcity, too have been used for fish cultivation.
What has further enthused farmers is that the state government has been providing an upfront monetary benefit of Rs 50,000 for the construction of farm ponds. Till the end of the 2018-19 financial year, Maharashtra had seen the construction of 1.2 lakh such ponds.
Read more of this interesting and encouraging news for farmers in a report by Pathasarathi Biswas published in The Indian Express... (Link given below)
News Source
The Indian Express