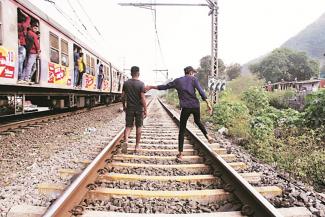 Nearly 11,000 residents of illegal settlements at the foot of a hill on Central Railway's Mumbra-Kalwa stretch must cross the railway line in order to reach the highway that connects them to the rest of the world. They — and the Railways — have no option: it is not possible to build a foot overbridge (FOB) at that spot, identified in Railway records as "Km No. 38/1-16".
So, between March and August this year, what the Railways tried instead, was three seemingly simple interventions at 22 locations between Thane and Kalwa, which saw 88 deaths between January and November 2018 — the worst black spot, with 21 deaths, being Km No. 38/1-16.
And the interventions, based on principles of cognitive neuroscience and behavioural economics, have shown results.
First, in order to help people gauge more accurately the speed of an oncoming train, five sets of sleepers at intervals of 100 metres have been painted yellow, with the nearest set of these sleepers about 150 m from the black spot. The idea is for people to watch how quickly the yellow sleepers are being swallowed as the train approaches them.
Second, a "whistle board" has been put up 120 m from the spot, asking the motorman to blow the hooter with breaks in between, described as a "staccato horn". Research suggests the human brain reacts better to a staccato horn than to a single, long blast.
Third, a huge board with a picture of a man with vivid expressions as he is being hit by a train, has been put up at all locations.
Read more of this innovative and effective measure taken by the Railways, in an excellent report by Iram Siddique published in The Indian Express... (Link given below) The newspaper does appreciable work to publish such positive news items for its readers. - Editor
News Source
The Indian Express