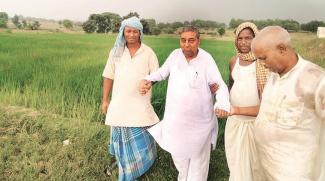 The dry belt of Naxal-hit Katoria and Chandan in Bihar's Banka district has mostly been a one-crop zone — paddy or sugarcane. Agriculture was entirely dependent on rainfall with the state government only recently starting work on reviving old sources of water such as rivulets, embankments and ponds.
Today, because of the efforts of a 70-year-old farmer, Anirudh Prasad Singh, Katoria and Chandan blocks are home to about 150 ponds, check dams and lift irrigation.
Local officials and residents say Singh's initiative has directly benefited about 1,000 farmers from 30 villages, while at least 10,000 farmers from 200-odd villages have followed his model to harvest water on their land. And since their success, these farmers have been growing two crops, paddy and wheat.
The experiment has now expanded to "mobile lift irrigation" — taking water up to 1,000 feet away from the origin by linking foldable pipes.
Read more about this encouraging report, of how a single person's initiative brings change for the better, by Santosh Singh published in The Indian Express... (Link given below)