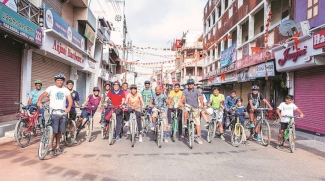 People staying in cities need not be told of the traffic issues that they face every day. Most, talk of how the government has not been doing enough to ease the situation. However, not many come up with their own help to make things easy for themselves and others on the road.
Here is a story of one Nikita Lalwani in Vadodara, an instrumentation engineer, doesn't drive a car or a scooter to work but cycles there. She now runs the Vadodara-based Cycling Cities, a platform that promotes cycling and aims to encourage "at least one-third of the population of every city to take up cycling" as a commuting option.
Lalwani says her mission has come with some personal perks. "With cycling, I no longer have to watch what I eat."
This can surely be followed in other cities too.
Read more of this inspirational story by Aditi Raja, published in The Indian Express....
News Source
The Indian Express