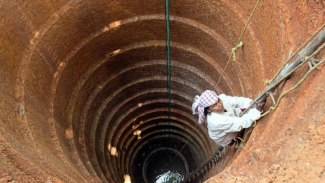 This is a story from Kerala which is very inspiring.
To fight drought many women in Palakkad district of Kerala have come together to dig wells and rewrite their destiny amid the unprecedented dry spell. Successive monsoon failure has left their land parched and robbed them of their livelihood. Though many are going hungry, very few are thirsty, thanks to the unique initiative by the women's collective.
Since October last, when the first signs of a prolonged drought became more visible, the women of Ottapalam block have been furiously digging wells with spades and shovels rather than let despondency take over. By last count, they have dug 180 deep wells, ensuring adequate source of drinking water for those in the region.
In tiding over the water crisis, the Ottapalam women have also breached what was perceived to be a male bastion. Digging deep wells was seen a risky job requiring hard labour and special skills that only men possessed. But sporting coloured lungis and shirt, the women are venturing deeper in their search for water and pulling down long-held beliefs.
Read more of this excellent story by Ramesh Babu in Hindustan Times....
This should certainly motivate many all over. Though, one can say, that it is the duty of the government to take such action, but the community at large can surely give a helping hand.
News Source
Hindustan Times