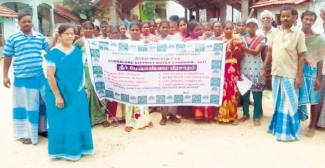 This is the story of one Ranganayaki of Tamilnadu who was forced into farming after her husband's death. She is 65 now. Her husband died when she was 45 and she had to take care of three children.
It was Ranganayaki's efforts around a decade ago that brought water to over 1,400 acres of land, spanning 13 villages and benefiting dozens of farmers. "Without the canal, farmers had to rely on borewells, which are expensive and were not enough to meet the agricultural demands," she explains.
In 2016, she started a campaign to rid agricultural lands of the small Karuvelam tree (Prosopsis juliflora), a species native to South America and West Africa that was introduced to Tamil Nadu almost a half century ago as fuel wood, but which has now become an invasive weed.
Now, Ranganayaki is working with the National Bank for Agriculture and Rural Development (NABARD) to help raise awareness on conservation of water in village tanks and canals.
Read more of this motivating story in a report by Kavita Kishore published in Hindustan Times.....
News Source
Hindustan Times