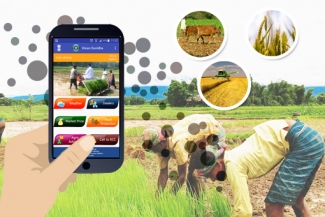 Kisan Suvidha Mobile App and Pusa Krishi Mobile App have 10,63,080 and 40,753 downloads respectively since their launch.
The following services and information are available on Kisan Suvidha Mobile application:
Weather Forecast
Extreme Weather Alert
Market Price of commodities
Dealers - Fertilizer, Seeds, Pesticide, Seeds etc.
Plant protection for 12 major crops
Agro advisories
Soil Health card
Soil testing labs
Cold Stores &Godowns
Vet Labs & Diagnostic Centres
Crop Insurance
Government Schemes
Pusa Krishi Mobile App disseminates information about the latest technologies developed by the Indian Agricultural Research Institute. Details of 185 technologies are available on Pusa Krishi Mobile App. 
While Pusa Krishi Mobile App is available in two languages viz., Hindi and English, Kisan Suvidha Mobile application which was available in 7 languages viz. English, Hindi, Tamil, Gujarati, Oriya, Punjabi and  Marathi, has recently been made available in two more languages viz. Bengla and Telugu.
This information was given by the Union Minister for Agriculture & Farmers Welfare Shri Narendra Singh Tomar in a written reply in the Lok Sabha on Tuesday.