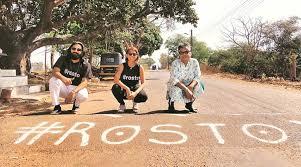 A zumba instructor, a house nurse and a taxi operator have been painting speed breakers at night across Goa to help drivers and bikers spot the potential safety hazard, while leaving their stamp — hashtag 'Rosto (roads in Konkani)' — etched alongside.
Since December 17, the three, assisted by local residents, have covered 71 speed breakers using paint sprays. Rosto is now a social media exercise with followers across villages and the expat community.
"Every issue in Goa is fought on roads, so we decided to start by painting roads," says Cecille Rodrigues, 38, a mother and a zumba and skating teacher. Rodrigues is assisted by Seema Chimulkar, 60, a house nurse, and Prakash Malani, 32, a taxi operator hailing from Gujarat.
With the fierce Goa monsoon damaging village and tourist roads, and the state government's casual response to the number of road accidents — 264 deaths in 2018, according to the National Crime Records Bureau (NCRB) — Rodrigues reached out using a language that is uniquely Goan.
"All we know is, of the people, for the people, and by the people. We are reminding that to ourselves through our roads," says Chimulkar.
Read more of this interesting and story of determination to set things right, in a report by Smita Nair published in The Indian Express... (Link given below). Such stories in a newspaper reach to lakhs and motivate others to take up such work to help the society at large.
News Source
The Indian Express