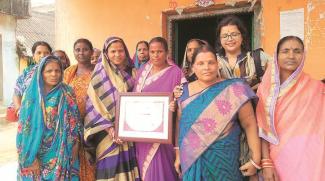 "We no longer have to beg or steal from the men to pay tuition fee for our children," says Samsa Begum, 34, as the women around her nod in agreement.
Now overseeing six lakh SHGs with 69 lakh women, Mission Shakti, which the Naveen Patnaik-led BJD government began in 2001, ensures government departments help SHGs with sustainable income practices and lifestyle changes. This is an improvement over the usual thrift-and-credit mechanism of SHGs, where women lend to each other or leverage bank loans.
In Arakhapalli village, women SHGs have been encouraged to take up pisciculture, with Mission Shakti and the state Fishery Department leasing ponds to women for Rs 2,000 per acre per year, against market rates of about Rs 50,000.
The government also provides around 60 per cent of the project cost as subsidy.
To increase the lure of economic ventures for Odisha's women, Mission Shakti is incubating those that combine food security with an income source. 
Read more of this in a report by Sampad Patnaik published in The Indian Express... (Link given below)
News Source
The Indian Express