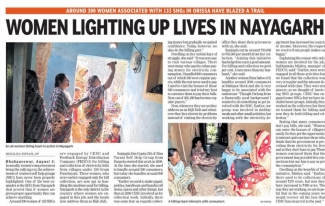 Around 300 women from 133 Self Help Groups are engaged by CESU and Feedback Energy Distribution Company (FEDCO) for billing and collection of electricity bills from villages under 159 Gram Panchyats. These women, who were earlier engaged only for bill collection, are now apt in handling the machine which is used for billing.
Nayagarh is the only district in the country where women are engaged in this type of work. The locals address these women as Bijli didi now. The distribution company is very happy with their work. In fact their collection, which was around 270 crores earlier has risen to 380 crores.
Read this highly motivating story by Monalisa Parsani in Orrisa Post....
More and more such stories should come out in the media to high light the good that is happening all around....