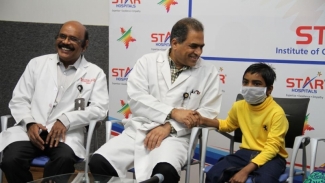 For two years, eight-year-old Yashwant could only watch as his friends played and ran around in the neighbourhood. Even a small walk would leave him tired and breathless. Even after two years of medication the condition of the boy from East Godavari district of Andhra Pradesh only worsened.
"His young body was swollen and his eight per cent. He was suffering these symptoms for over two years and not responding to any medication," Dr Mannem Gopichand, chief cardiac surgeon at Hyderabad's Star Hospitals, said.
He was saved in the nick of time. A heart transplant at the hospital on April 4 gave the eight-year-old a new life. The organ came from neighbouring Telangana. Naveen, an 18-year-old from Chityal in Nalgonda district, was declared brain dead after an accident and after the parents agreed Naveen's heart was donated to Yashwant.
Read this inspiring story by Srnivasa Rao Apparasu in Hindustan Times.....
News Source
Hindustan Times